Complexus Wins National Top Shop Award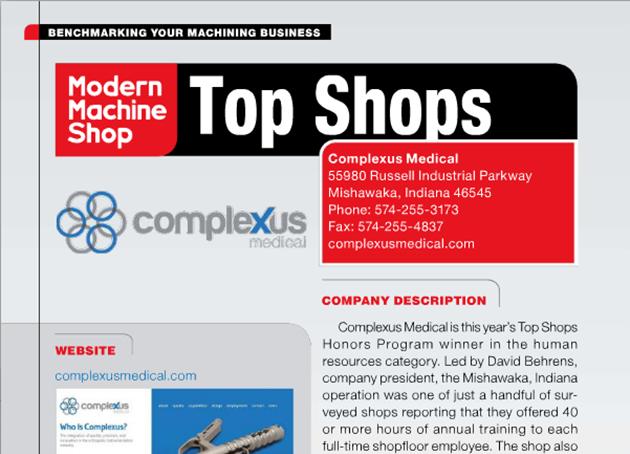 September 18, 2014
MISHAWAKA – Modern Machine Shop recently recognized Complexus Medical, 55980 Russell Industrial Parkway, Mishawaka, as a "Top Shop." The award was based on a nationwide benchmarking survey.
Complexus was among more than 400 businesses participating in the survey. The company ranked the highest in the human resources category and was named as one of the year's four "Top Shop Honors Program" winners.
David Behrens, president at Complexus, accepted the award at The International Manufacturing Technical Show earlier this month at McCormick Place, Chicago. The show, with 1,900 exhibitors, is considered one of the top trade shows in the industry, with more than 100,000 visitors.
Complexus, a 40-year-old company purchased by Behrens in 1990, performs contract manufacturing for the orthopedic industry, specializing in complex instruments and implants used in joint replacement. The company recently completed a 15,000 square-foot expansion project doubling its manufacturing capabilities and adding more than $3 million in capital investment.
Complexus completed a rebranding campaign that included a new name, a new logo, marketing plan and website. The company was named one of the "Indiana Companies to Watch" in 2013.
The "Top Shop" benchmarking survey allows shop owners and managers to compare their companies' practices with those of industry leaders, according to
Derek Korn, Modern Machine Shop Senior Editor.
For more details read the full article at: http://mms.epubxp.com/i/377395